What is Covenant Eyes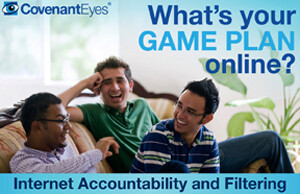 An internet accountability and filtering software that provides reports of your internet activity to trusted friends and family and offers flexible content filtering.
INTERNET ACCOUNTABILITY
Internet Accountability is not about catching someone red-handed. It's not even a filter, blocking content outright. Instead, Internet Accountability is a report of your Internet activities, designed to start a conversation, helping everyone in your home make wiser choices about Internet use.
What if you could send a report of your Internet activity to a friend or mentor so you could talk about where you struggle online?
What if you could see the sites your kids visit, the YouTube videos they watch, and the search terms they use?
WHY USE INTERNET ACCOUNTABILITY
Find Peace of Mind with Internet Accountability Software
Internet Accountability monitors the websites visited, the search terms used, and the YouTube videos watched, and lists them in an easy-to-read Report that is designed to start a conversation about healthy online habits.
Parents, see where your kids go online. Adults, reduce Internet temptations and protect the relationships you value most.