Sustaining Circle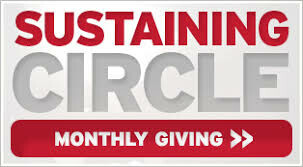 A regular monthly gift in any amount is the sustainable life-blood that allows us to meet our regular needs. Just like your business, we strive to be good stewards while providing meaning services, and this means regular expenses.
As we strive to help others, would you consider Jesus' words that it is "more blessed to give than to receive" (Acts 20:35). Thank you for joining with us and helping us with our stewardship and good work in the community through your participation in our Sustaining Circle.
---
How to Give
Online Donation
Check
Make your check payable to Gathering Palm Beach County and send to:
9314 Forest Hill Blvd, Ste 56
Wellington, FL 33411
Planned Giving

Talk with one of our financial planners to decide what type of Planned Giving is right for you. The Gathering accepts stocks, real estate, life insurance, intermediate and deferred gift annuities. In addition to monthly and on-time gifts, we have received stock gifts. To speak with one of our financial planners, contact us at 561-622-4913.
---
Financial Partnerships
50 Good Men

Abraham chose to stand and plead for the city. As he said to God, "What if fifty righteous people were in the city?"
It's recorded that God listened to him (Genesis 18:22-26). We too are looking for 50 men to join us monthly as we plead to God on behalf of men and their families in Palm Beach County. The goal is to have 50 men/families giving $50 per month.
Centurions

Centurions were courageous leaders of 100 men who fought side by side with their soldiers, while leading from the front! Such men were prestigious members of a relatively small class governing the military. Biblical Centurions were men of faith. (Matthew 8:5-10). The goal is to have 100 men/families giving $100 per month.
---
Special Giving Opportunities
Great Give

Great Give is a once a year opportunity to give on a single day. Gifts made that day receive a portion of bonus funds making your dollar stretch even further. In 2018 we raised over $6,000 in a single day thanks to the generosity of members of our community like you!
Every online gift made during the 24-hour period will be amplified by additional dollars from a bonus pool raised by United Way of Palm Beach County.
Birdies for Children

Birdies for Children is a once a year opportunity to give to The Gathering specifically to our Fathering Programs. American Honda Birdies for Children program is a vehicle for local charities to team up with The Honda Classic and present their donor base with a chance to win a new Honda automobile, while at the same time, the charity receives 100% of the proceeds plus a 10% matching contribution courtesy of The Honda Classic.