Recommended Reading
The average American watches 1,456 hours of television a year but only reads three books.
So if it is true that readers are leaders, and the more you read the further you advance, then there isn't a lot of competition. Don Miller in Father Fiction
Monday Morning Atheist
Written by Doug Spada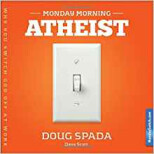 Monday Morning Atheist [noun] Definition: Someone who believes in God but who works like He does not exist.
It's an easy thing to believe in God but work like He doesn't exist ― switching God off. You are most likely struggling with Monday Morning Atheism right now without even knowing it.
The revolutionary book, Monday Morning Atheist, provides insights on this struggle and ways to stop the switch. It will challenge most everything you have thought about work...and yourself.
Based on 10 years of research and field experience, Monday Morning Atheist provides compelling Biblical evidence and practical solutions. In it you will find the three lies of Monday Morning Atheism and how to counteract them with God's promises.
Find Peace, Purpose, and Power in your work, today!
Monday Morning Atheist helped not only shape my opinion of why to be active with my faith in the marketplace, but it's pragmatic as well; sharing simple tips and stories on how to practically engage peers, clients and co-workers. (Matt Stevens, Executive, C-Beyond)
All Pro Dad
Written by Mark Merrill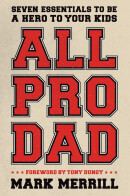 The Game-Winning Playbook for Every Father
A powerful, practical playbook for every dad." Tony Dungy (Super Bowl-winning coach and NBC Sports commentator)
All Pro Dad lays out a solid game plan that will make a huge difference in your family. Dave Ramsey (New York Times best-selling author and nationally syndicated radio show host)
All Pro Dad provides a great recipe for men to really connect with their kids. S. Truett Cathy (founder and CEO of Chick-fil-A, Inc.)
Facing the Blitz: Three Strategies for Turning Trials into Triumphs
written by Jeff Kemp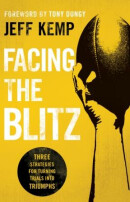 During a life "blitz," when everything seems like it's collapsing--financially, relationally, spiritually, or physically--if you take initiative you can do more than just survive. You can grow, succeed, and advance. In Facing the Blitz, Jeff Kemp shares lessons he's learned through all kinds of life blitzes, both personal and professional. Discover how life is about transformation and being others-oriented; having the right mind-set can turn unnecessary fear and misery into courage and joy.
No matter who you are, this book is about the things that matter in your life. Don't end up flat on your back when trouble comes. Learn to seize opportunities to flourish and grow.
Jeff Kemp is a long-time friend, former quarterback, and teammate with the Seattle Seahawks. Many of the stories Jeff writes about I witnessed and remember vividly! Some painful, others joyful, but all of them instructive and profitable if you can face the blitz! Steve Largent (NFL Hall of Fame and former U.S. Congressman)
Take a Knee: Winning Plays for the Game of Life
written by Dr. John Tolson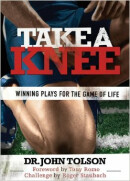 In the Game of Life, do you feel stuck on the bench? What are you waiting for? Get off the bench and take a knee! Dr. John Tolson invites you into the locker room... the place where players' prep... the moment where you decide if you're in or out, how you're going to execute the best offensive plays, and strategize your best defensive moves. In the game of life, our locker room is no different. To be the best husband, father, friend, businessman, student, athlete, or coach, we have to apply the same basic principles to find success.
This is a must-read for all men. Justin Leonard (PGA Tour Player)
Take a Knee is a slam dunk! Pat Williams (Orlando Magic Senior VP)
Take a Knee is like one of those insane, get-ripped-in-ninety-days workout videos, only this is for your soul. Bradie James (Dallas Cowboys Linebacker)
Invited: The Call of a Lifetime
written by Roger Wernette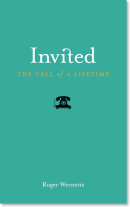 You are invited to a life full of meaning and purpose. This may be your "call of a lifetime" and you owe it to yourself to check it out.
Following Christ means more than getting a ticket to heaven. Jesus invites you into a relationship with Him that will change everything. Let my friend Roger Wernette guide you into this great adventure! Lee Strobel (author of 'The Case for Christ' and 'The Case for Faith')
I dare you to read Invited. It will open the door to the life you have been searching for. David Cook, Ph.D. (Seven Days in Utopia)
We should all keep copies of this book handy and give it to our friends. If you want to share the gospel, Invited is a great resource. Lance Berkman (former Major League Baseball Player)
Sexy Christians: The Purpose, Power, and Passion of Biblical Intimacy
written by Dr. Ted Roberts & Diane Roberts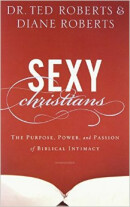 If you think the words sexy and Christians don't belong in the same sentence, think again. God wants your marriage to be filled with joyful intimacy.
A wonderful book on what this great mystery of sex and the Christian faith have to do with each other. Dr. John Townsend (speaker, bestselling author, 'Boundaries')
Ted and Diane Roberts take the cobwebs out of outdated ideas and debunk contemporary confusion that intrudes upon God's wonderful gift of our sexuality. Jack Hayford (chancellor, The King's College and Seminary; founding pastor, The Church on the Way)
I love this book! It can help any couple see one another better and become more intimate, connected, and happy. Douglas Weiss, Ph.D. (president, American Association for Sex Addition Therapy)
Never Surrender: A Soldier's Journey to the Crossroads of Faith and Freedom
written by LTG (Ret.) William 'Jerry' Boykin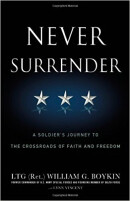 General Jerry Boykin is one of the original members of the Delta Force and has spent the majority of his career in Special Forces. His work in this area of the military placed him in many battles--some of them legendary. He was commander of the Delta Force team portrayed in the movie Black Hawk Down.
These and other dramatic experiences make Boykin's life story read like the riveting fiction of Tom Clancy. He shares how his foundation of faith--while challenged and even broken--was restored and became the lifeblood that brought him through unimaginable circumstances to a rich and inspiring life.
In the end, the general realizes his life would have gone very differently, even tragically, without his faith.
A powerful and moving chronicle of courage, commitment, and devotion by an audacious soldier and gifted leader. This thrilling account of how he "fought the good fight, finished the race, and kept the faith" in the midst of dangerous and difficult circumstances is inspiring. You won't want to put it down. Oliver North (Lt. Col. USMC Ret., speaker, bestselling author)