An Evening w/ Brian Holman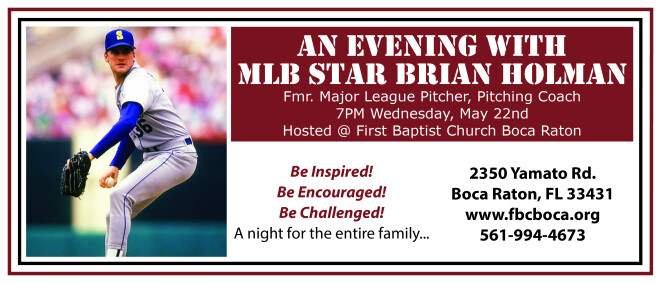 Wednesday, May 22, 2019, 7:00 PM - 8:15 PM
Join us in Boca Raton for a Family Worship Service featuring The Gathering's Brian Holman, former MLB Star and Pitching Coach. Brian will share an encouraging message with highlights from his career and life journeys which will include a clear presentation of the gospel of Christ. Be sure to invite your friends, colleagues, co-workers, and family!
* A reception will take place
before the service
for those wishing to mingle, get autographs signed, or talk MLB Baseball BEFORE service. please press link below for more details.
* Church Address - 2350 Yamato Rd., Boca Raton, FL 33431
Thank you to First Baptist Church Boca Raton for partnering w/ Gathering Palm Beach County.