What is Couple Checkup
Couples - Dating, Engaged, Married
---
Couples - Church Resource You Can Use
When was your last relationship "Tune Up or Check up"?
You do it for many other important items in your life such as your car and your health. With Couple Checkup you will invest $35 to take this assessment. The return on that $35 might be the best investment in your relationship whether dating, engaged, or married!
As soon as you finish, the analysis will be sent to you with a discussion guide to help you in your evaluation/discussion. If you choose, you can have the results e-mailed to your pastor or counselor.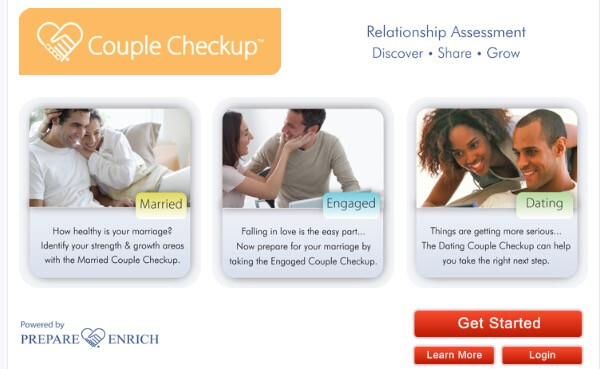 Couple Checkup Goals
One goal is to celebrate your relationship strengths!
Another is to identify issues you disagree on and need to resolve.
Third is to encourage you as a couple to talk about your relationship.
Couple Checkup Results
Your Couple Type

Vitalized
... typically the most satisfied with their relationship, skilled in communication and conflict resolution
Harmonious
... enjoy high levels of satisfaction across most areas of their relationship

Conventional


... often highly committed to one another, but not as skilled in communication and conflict resolution

Strength Areas
Growth Areas
Good News: Studies show couples can improve their couple type by improving their relationship skills, such as communication and conflict resolution.
Share the results with your pastor, counselor, or contact The Gathering. It is good to share the results with a Relationship and/or Marriage Mentor. The Gathering is a partner in the Palm Beach County Healthy Marriage Initiative. It is our desire to lower the existing 62.4% divorce rate in Palm Beach County. You are encouraged to take this valid and reliable assessment tool.