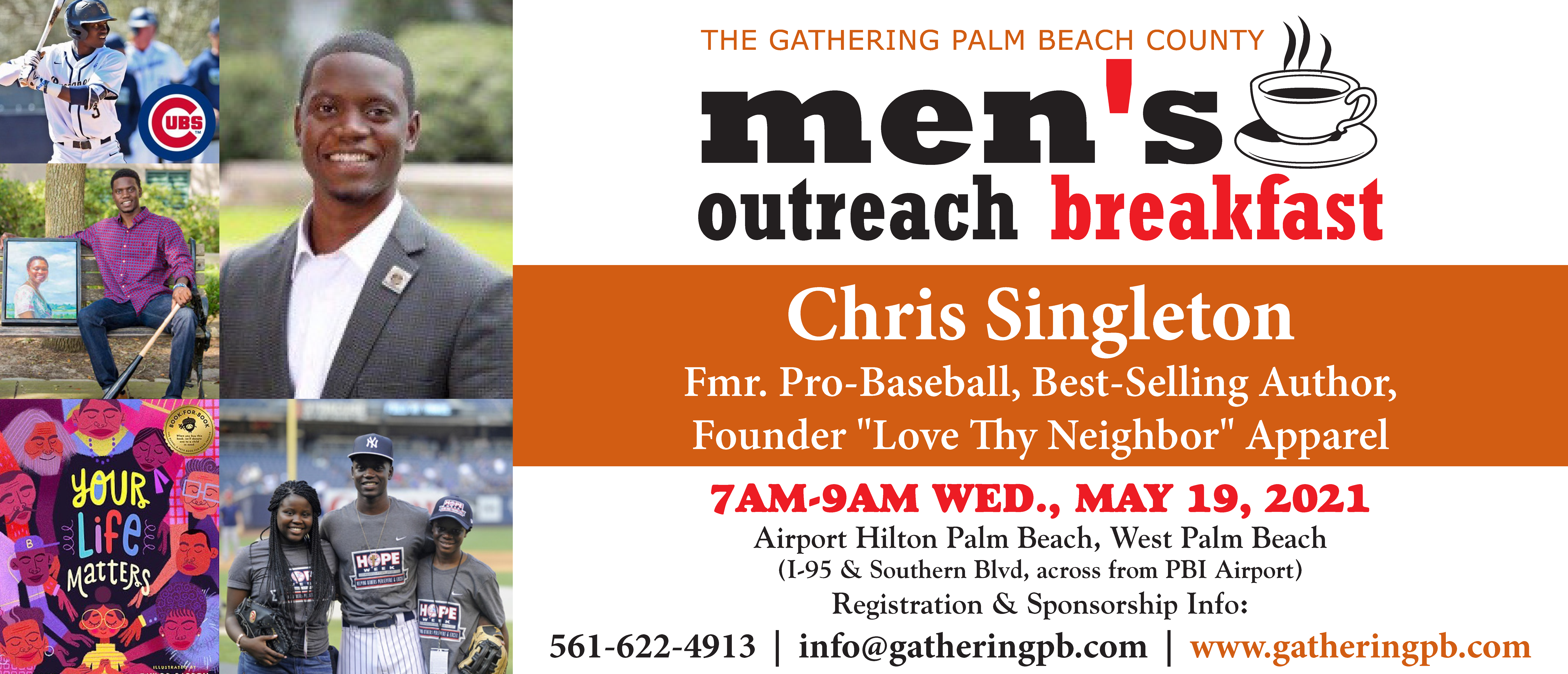 Speaker: Chris Singleton
(Fmr. Pro-Baseball, Best-Selling Author, Founder 'Love Thy Neighbor' Apparel)
Pricing: $45 (single ticket); $350 (early registration discounted tables of 8 - SOLD-OUT); Preferred Seating & Event Sponsors ($500 and up, see registration site or downloadable form)

Details: Join 100's of guys at The Gathering's Outreach Breakfast on Wed., May 19, 2021. Speaker Chris Singleton - former Pro-Baseball Player, Best-Selling Author, and Founder of 'Love Thy Neighbor' Apparel - will encourage you plus there's a time to network w/ others!
meet chris

...

Chris Singleton is a former professional baseball player in the Chicago Cubs organization as well as an inspirational speaker who has traveled the country passionately speaking about forgiveness and unity following the loss of his mother in the Charleston Church Shootings. His mother, Sharonda Coleman Singleton, was murdered along with eight other victims at Mother Emanuel AME church in Downtown Charleston, South Carolina on June 17th 2015 by a white male who wanted to start a race related war in the United States. Chris inspired his city and the nation by forgiving the man and stating that "Love is stronger than hate."

Chris now shares his message with over 60 organizations annually with such clients as the Houston Texans, Microsoft, and the Washington Wizards. He has been featured on ESPN's E:60, Sports Illustrated magazine, CNN, and USA Today. He authored a children's book, Different: A Story About Loving Your Neighbor, that was a best seller in its category and has been featured by numerous outlets, including The Obama Foundation. Chris's message is one of hope, faith, and belief. Chris inspires his audiences of all ages through his personal experiences with adversity and his belief that God can guide you through any storm you will ever face. WATCH PROMO VIDEO

Registration, Location, & Promo

...
Gathering Palm Beach County Men's Outreach Breakfast
7AM-9AM Wednesday, May 19, 2021
Hosted @ Airport Hilton Palm Beach
150 AUSTRALIAN AVENUE,

WEST PALM BEACH

,

FLORIDA

,

33406-1473

, USA





Please make checks payable to
: Gathering Palm Beach County

Mail to
: 9314 Forest Hill Blvd, Ste 56, Wellington, FL 33411
Questions . . . call The Gathering Office (561) 622-4913
---

What is the outreach breakfast?
Each year since 1989, The Gathering has sponsored evangelistic outreach events for men. We have been blessed to have hundreds of men in attendance at each breakfast. Many have been impacted professionally and personally after hearing an encouraging message that features an opportunity for men to accept, or return to, Jesus Christ.
We encourage YOU to invite men Who Are:
Christians needing a spiritual booster shot
Broken or wounded
Not in a personal relationship with Jesus
Professing to be Christian, yet live by cultural not Biblical values
Your disciples
We believe it is time to be strategic and intentional in inviting men to hear the good news of the Gospel. There is an urgent necessity in reaching/inviting men to have a relationship with Jesus. Hopefully you will want to be a part of this movement. Be in prayer, God will guide you to the men He wants you to invite.
---
Past Outreach Breakfast Speakers


Michael Franzese
Jeff Strueker
Mark Whitacre
Sujo John
Scott Sullivan
Bernhard Langer
Captain Chris Plenkpol
Adolph Coors IV
Dr. Tony Campolo
Mike Schmidt & Gary Carter
Ken Davis
Eric Alexander
Bill Fay
Lyle Wells
Bob Tebow
David Barton
Joe Erhmann
Dr. Hugh Ross
Phil Callaway
Rich DeVos
Wayne Huizenga, Jr.
Billy Thompson
Tommy Bowden
Chad Williams
Darryl Strawberry
Jeff Kemp
Mark Merrill
Doug McCary
LTG Jerry Boykin
Mark Koch
Brian Holman
David Akers
Dr. Damon Friedman