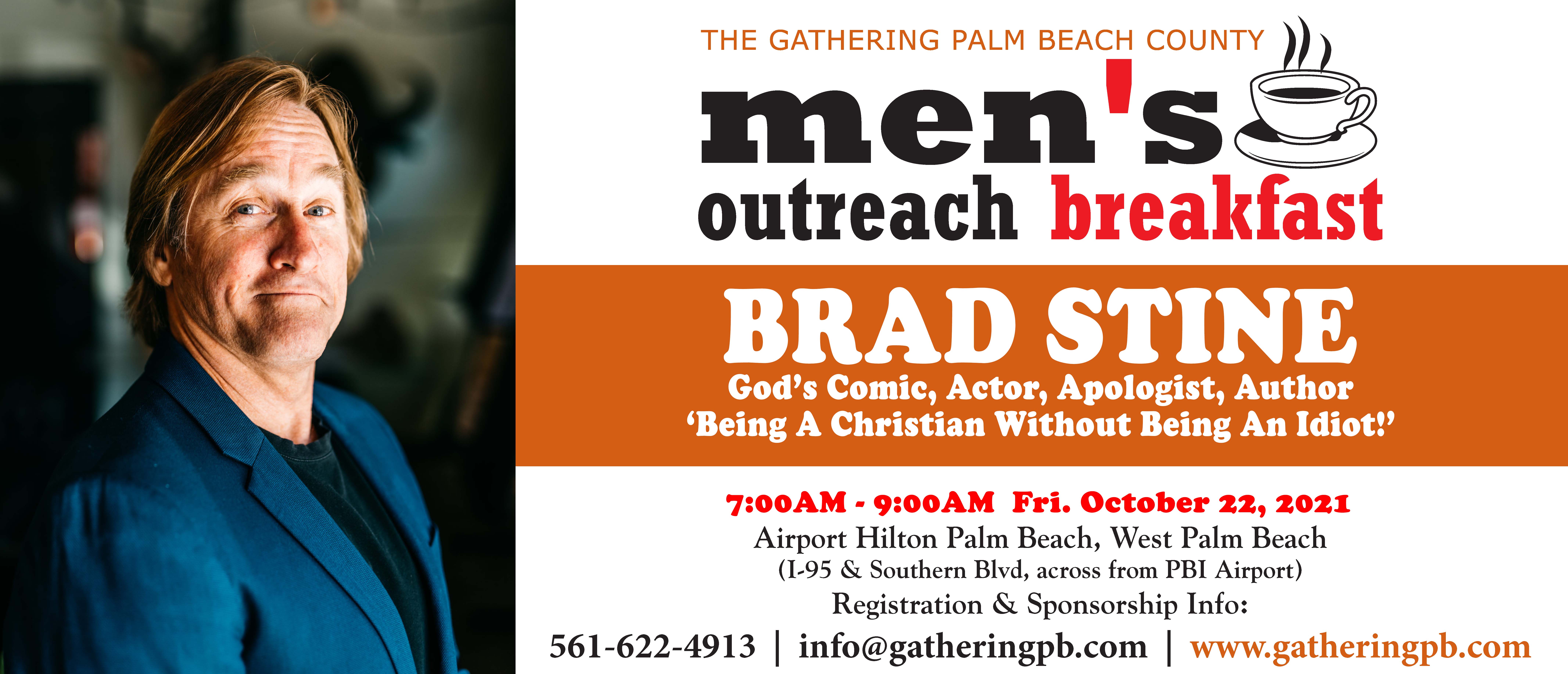 Speaker: Brad Stine
('God's Comic', Actor, Apologist, Author 'Being A Christian Without Being An Idiot')
Pricing: $50 (early registration discounted tickets till 10/01); $400 (early registration discounted tables of 8 till 10/01); Preferred Seating & Event Sponsors ($700 and up, see registration site or downloadable form)

Details: Join 100's of guys at The Gathering's Outreach Breakfast on Fri., Oct. 22, 2021. Speaker Brad Stine - 'God's Comic', Actor, Apologist, Author 'Being A Christian Without Being An Idiot!' - will help you laugh and encourage you plus there's a time to network w/ others!
meet brad

...
Brad Stine is coming to West Palm Beach for The Gathering of Men's Outreach Breakfast on Oct. 22, 2021. Brad is known as 'God's Comic', the pioneer of Conservative/Christian edgy comedy. You'll laugh while unapologetically loving America, God, guns, and mocking political correctness. He's also an actor and author of 'Being A Christian Without Being An Idiot!'.
For over 20 years, Brad Stine has been by far the most unique Christian comic in the country. His desire to mix his style of intelligent and relatable comedy observations has always been supplemented by his desire to inspire believers to be bold and unapologetic about their faith in Christ. This approach has made him a sought-after comic for the "right", appearing numerous times on Fox & Friends, Huckabee, CNN, as well as on numerous Christian broadcasts. The accolades he has received from the likes of Tucker Carlson to Eric Metaxas and ministry leaders from Promise Keepers to mega-church pastors (and everyone in between) has made him one of the most influential Christian comics, actors, writers, and apologists in the nation.

WATCH PROMO VIDEO
Registration, Location, & Promo

...
The Gathering Of Men Fall Outreach Breakfast
7AM-9AM Friday, Oct. 22, 2021
Hosted @ Airport Hilton Palm Beach
150 AUSTRALIAN AVENUE,

WEST PALM BEACH

,

FLORIDA

,

33406-1473

,

USA

Please make checks payable to: Gathering Palm Beach County

Mail to: 9314 Forest Hill Blvd, Ste 56, Wellington, FL 33411
Questions . . . call The Gathering Office (561) 622-4913
---

What is the outreach breakfast?
Each year since 1989, The Gathering has sponsored evangelistic outreach events for men. We have been blessed to have hundreds of men in attendance at each breakfast. Many have been impacted professionally and personally after hearing an encouraging message that features an opportunity for men to accept, or return to, Jesus Christ.
We encourage YOU to invite men Who Are:
Christians needing a spiritual booster shot
Broken or wounded
Not in a personal relationship with Jesus
Professing to be Christian, yet live by cultural not Biblical values
Your disciples
We believe it is time to be strategic and intentional in inviting men to hear the good news of the Gospel. There is an urgent necessity in reaching/inviting men to have a relationship with Jesus. Hopefully you will want to be a part of this movement. Be in prayer, God will guide you to the men He wants you to invite.
---
Past Outreach Breakfast Speakers


Michael Franzese
Jeff Strueker
Mark Whitacre
Sujo John
Scott Sullivan
Bernhard Langer
Captain Chris Plenkpol
Adolph Coors IV
Dr. Tony Campolo
Mike Schmidt & Gary Carter
Ken Davis
Eric Alexander
Bill Fay
Lyle Wells
Bob Tebow
David Barton
Joe Erhmann
Dr. Hugh Ross
Phil Callaway
Rich DeVos
Wayne Huizenga, Jr.
Billy Thompson
Tommy Bowden
Chad Williams
Darryl Strawberry
Jeff Kemp
Mark Merrill
Doug McCary
LTG Jerry Boykin
Mark Koch
Brian Holman
David Akers
Dr. Damon Friedman