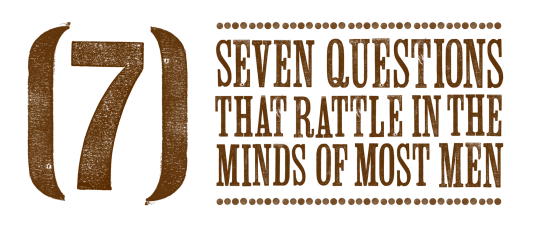 Seven Questions That Rattle In the Minds Of Most Men by John Woodall

Being A Male Is Easy . . . Being A Man Is Daunting! The pressures of manhood can be enormous, and they're only intensified by the mixed messages you receive from the culture. Sometimes it seems as though everyone wants something from you. Does being a real man mean having a perfect family, a corner office, a luxury car, and a massive home? or, is there something more to life - a source of deeper satisfaction?
The Bible has some surprising and counter-intuitive things to say about being a man. In this series that features short DVD teachings and interactive group discussion, you will explore God's design for manhood. You will be introduced to 7 questions that rattle in the minds of most men.
Where Am I?
What's My Story?
Who Am I?
Why Am I Here?
Where Am I Going?
What About Women?
Who Can I Trust?
There is a reason for every season in a man's life!
Your legacy is defined by default or design!
You will get somewhere on purpose or off purpose!
The cost of an unresolved past is missing the present and fearing the future!
Men don't desire too much . . . we desire to little!