Be a Vet Dad
Rookie Dads Need Vet Dads Like You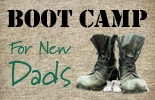 Remember when you attended Boot Camp for New Dads as a Rookie? You probably went home with answers to your questions and feeling more confident about your baby on the way. The vet dads in class shared their stories, advice and tips and it helped you and the other rookie dads know what to expect.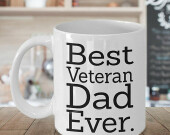 We need you to share the wisdom you've gained since your baby was born to help the next set of rookie dads. Boot Camp isn't Boot Camp if there aren't vet dads and babies to show the rookies the ropes. Help us share the trials and triumphs of daddyhood (and everything in between) with our rookie dads.
I know that as a new parent, you really have your hands full, so we deeply appreciate it when a dad returns to help other dads navigate their way toward successful parenthood.
When you attend you would bring your little baby along and anything else that your baby would need for that couple hours during the class. We prefer to have babies between the ages of 3-6 month of age. If you are interested in attending as a vet dad, checkout the schedule to the right and please email .
---
All-Pro Dad
All Pro Dad is on a mission to help you love and lead your family well and to be a hero to your kids. They also have an excellent book called All Pro Dad that you can purchase online. LEARN MORE about all-pro dads
About All Pro Dad the book...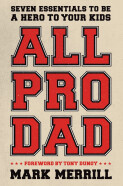 Dads, do you want to be a hero to your kids? A go-to coach for your teens? A husband your wife knows she can count on? All Pro Dad lays out a game plan built on seven essential fathering truths and ultra-practical insights for the questions every dad needs answered at some point.
With a foreword by Super Bowl–winning coach Tony Dungy, gut-level "huddle" questions to ask your children, and firsthand stories from well-recognized dads (CBS broadcaster James "JB" Brown, Chick-fil-A founder and CEO S. Truett Cathy, Grammy Award–winning recording artist Michael W. Smith, FedEx Express COO and president, international, Michael Ducker, and more), All Pro Dad will stir you, equip you, and inspire you toward the goal of being a champion father and a hero to your kids.
---
A Man and His Fatherhood
Authentic Manhood has released 33 The Series and as part of that series, they discuss "A Man and His Fatherhood". Below is a clip from that series. We have groups meeting throughout the county going through the 33 The Series study. "A Man and His Fatherhood" helps you to begin to think strategically about being a dad and prepare to launch healthy sons and daughters into the world. If interested in attending one of our groups, click on the Small Groups link at the top of our website and contact a leader to learn more.
---
TrailMap for Life
Interactive Video Program Parents + Kids Do Together
This 10 session interactive-video series teaches parents and kids (ages 11+) key principles and best practices for successfully managing life's core topics such as: money, dating, character, friends, faith, peer pressure, family, and time management.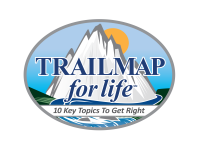 Each session includes a 25-minute video that guides you through each topic, including activities that make it fun and effective.
This is a critical program that every parent needs to do with your teen. You can participate on your own, or with others as part of a small or large group (It's OK if you can't make all group sessions - you can do those anytime...online or via the app).
You will be better prepared to:
Successfully master life's critical topics.
Prioritize your time and maintain healthy life balance.
Strengthen your relationships, both as a family and with others.
Complete your Life Plan and use it as a trail map for life.