What is Lunch & Learn
A one-hour spiritual booster shot that will equip and encourage you. Where men of substance, discuss things of significance, to strengthen each other for life's journey.
Lunch Details . . .

Noon - 1:00pm

Lunch $10 (includes drink, meal, dessert)

3rd Tues. of Month (NPB)

Once per Month - Sept., Oct., Nov. Dec., Jan., Feb., Mar., Apr.,
Hosted at . . .
First Presbyterian Church-Fellowship Hall
717 Prosperity Farms Road, North Palm Beach
Faith - Friends - Fellowship - FOOD
Good opportunity to invite a man to join you!
Great

Lunches for Guys - since 1997!
---
Schedule
Sept. 17 - Speaker Todd OC Shoemaker
Oct. 15 - Speaker Patrick Trindade
Nov. 19 - Speaker Dr. J.R. Thicklin
Dec. 17 - Speaker Robert 'Bob' Schuemann
Jan. 21 - Speaker Chuck Dettman
Feb. 18 - Speaker Warren Bottke
Mar. 17 - RESCHEDULED - Speaker Jeremy Wiles
Apr. 21 - RESCHEDULED - Speaker Samuel J. Voorhies, PhD
OFF FOR THE SUMMER - May, June, July, August
---
Devotion & Discussion Topic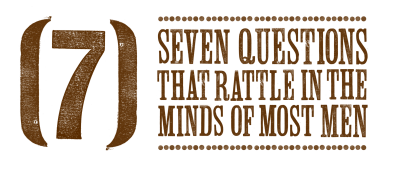 Seven Questions That Rattle In the Minds Of Most Men by John Woodall

Being A Male Is Easy . . . Being A Man Is Daunting! The pressures of manhood can be enormous, and they're only intensified by the mixed messages you receive from the culture. Sometimes it seems as though everyone wants something from you. Does being a real man mean having a perfect family, a corner office, a luxury car, and a massive home? or, is there something more to life - a source of deeper satisfaction?
The Bible has some surprising and counter-intuitive things to say about being a man. In this series that features short DVD teachings and interactive table discussion, you will explore God's design for manhood. You will be introduced to 7 questions that rattle in the minds of most men.
Please sign up for our Newsletter
If you are not receiving our eNewsletter, sign up for it today to stay abreast of all the activities of The Gathering.