What is Lunch & Learn
A one-hour spiritual booster shot that will equip and encourage you. Where men of substance, discuss things of significance, to strengthen each other for life's journey.

Lunch Details . . .

Noon - 1:00pm

Lunch $12 (includes drink, meal, dessert)

2nd Thurs. of Month (NPB) - see below for exceptions

Once per Month - Nov., Dec., Jan., Feb., Mar., Apr., May
Hosted at . . .
First Presbyterian Church-Fellowship Hall
717 Prosperity Farms Road, North Palm Beach
Great

Lunches for Guys in North Palm Beach - since 1997!

Schedule
Nov. 10, 2022 - POSTPONED DUE TO STORM
Dec. 08, 2022 - Speaker Marc Feinberg, High Performance Coach to Athletes/Entrepreneurs, Advisor, Author
Jan. 12 - Speaker Tim Jackson, Dir. of Facilities/Engineer, UF Scripps Biomedical Research, Kairos Prison Ministry
Feb. 16 - Speaker Steve Mara, Ex-Felon, Drug Smuggler, Pres./Founder '6 Lights In The Desert'
Mar. 09 - Speaker Jesse Carraccio, Station Mngr. Moody Radio So. FLA, Fmr. Thrivent Financial Advisor, Husband of 1, Father of 5
Apr. 13 - NOT MEETING - SEE YOU AT OUTREACH BREAKFAST (APRIL 20)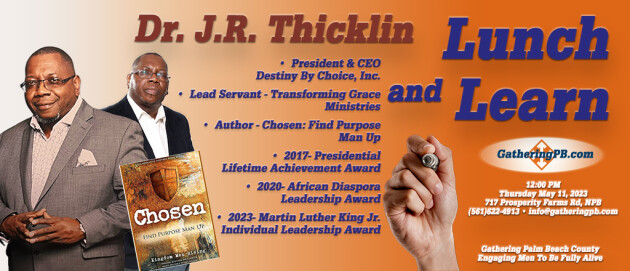 May 11 - Speaker Dr. J.R. Thicklin, Pres. Destiny By Choice, Domestic Violence Expert, Cultural Diversity Empowerment, Multi-award winning Social Work Recipient, Author
ON-LINE REGISTRATION
OFF FOR THE SUMMER - June, July, August

---
Please sign up for our Newsletter
If you are not receiving our eNewsletter, sign up for it today to stay abreast of all the activities of The Gathering.