What is Boot Camp for New Dads
Boot Camp For New Dads is a men-only workshop for guys expecting their first baby. During the 3-hour workshop, the "Coach" shares useful and practical pre-birth, day-of-birth, and post-birth tips. When available, "Veteran" dads (w/ their babies), join the "Rookie" dads-to-be to share their first year experiences of what fatherhood is really like. The Vets also answer questions, address concerns, change diapers, showcase their baby-bags, and share how they and their families are tackling common issues faced by new parents.
WHAT YOU WILL LEARN :
Forming a new family

Developing a parenting team that works

Supporting new Mom and caring for new Baby

Pre-birth and post-birth preparation

Useful and practical Birth-Day Tips

Veteran Dads and their 'bags of tricks'

Trouble-shooting crying babies, Postpartum depression, and shaken-baby syndrome

Becoming the dad you want to be, bonding with baby, and building your relationship
The live interactive workshop is $30 for each dad-to-be, which includes in-class handouts and our new interactive online e-Guide called "Welcome to Fatherhood". The $30 fee is taken up at the door (cash or check).
BOOT CAMP BASICS
Class Participants : First Time Dads, Veteran Dads + their babies, Boot Camp Coach
Class Times : 9am-Noon Saturday (Local); On-Line times 12pm-3pm
Class Tuition : $30-40 per person (payable in class and on-line); Dads receive class materials including in-person hand-outs and on-line Welcome To Fatherhood E-Guide.
BOOT CAMP MISSION
To assure every child the opportunity for a caring and capable father beginning at birth. Classes are for First Time Dads!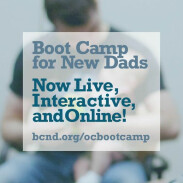 Boot Camp for New Dads is a unique father-to-father, community-based workshop that inspires and equips men of different economic levels, ages and cultures to become confidently engaged with their infants, support their mates and personally navigate their transformation into dads. Boot Camp is validated by research and has been named a best practice by many organizations that consider it an exceptional means of supporting dads-to-be and fostering behaviors that greatly benefit children and help prevent a wide range of social ills. Founded in 1990, the non-profit Boot Camp for New Dads has graduated over 325,000 men, making it by far the nation's largest program for new fathers, and is now offered in 44 states and on U.S. military bases, Canada and the U.K. Since 2003, beginning at Good Samaritan Medical Center, The Gathering Of Men has offered these Boot Camps throughout Palm Beach County in various hospitals. We currently offer these classes on-line and in-person at select hospitals.
IN-PERSON CLASSES IN PALM BEACH COUNTY 2023 & 2024
ON-LINE CLASSES are available as well as in-person classes. The Gathering of Men has resumed in-person classes in select locations!
ON-LINE CLASSES 2023
Nov. 4, 11, 18, and Dec. 2, 9

2024 Dates Coming Soon!
CURRENT HOSPITALS
Wellington Regional Medical Center (In-Person)
Boca Raton Regional Hospital (In-Person)
Jupiter Medical Center (In-Person)
Good Samaritan (Not-Active)
St. Mary's Medical Center (Not-Active)
Bethesda Health East (Not-Active)
West Boca Medical Center (Not-Active)
Downloadable Brochures (2020)
Over 3000 men have attended our classes in Palm Beach County since 2003!
---
TESTIMONIES
"I got more out of the class than I thought I would." Andy O'Brian
"I believe this class shouldn't be optional but necessary! I'm really excited about this new chapter in my life and I want to thank you and your team for making this such a positive experience." Michael Stein
"When my husband returned from Boot Camp he felt empowered to care for me as a pregnant women, as his wife and soon to be new mom. He realized he has a special role to play in taking care of me, providing for our family and being the father figure for our son that no one else could be." Shannon Woolfe
COACHES (Palm Beach County)
Jason Besner, Dennis DeMarois, Jason Fisher, David Killian, Dennis Richards
ADDITIONAL RESOURCES
Boot Camp Pictures