What is Boot Camp for New Dads
Boot Camp for New Dads is a unique father-to-father, community-based workshop that inspires and equips men of different economic levels, ages and cultures to become confidently engaged with their infants, support their mates and personally navigate their transformation into dads.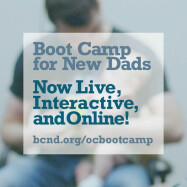 Boot Camp is validated by research and has been named a best practice by many organizations that consider it an exceptional means of supporting dads-to-be and fostering behaviors that greatly benefit children and help prevent a wide range of social ills. Founded in 1990, the non-profit Boot Camp for New Dads has graduated over 325,000 men, making it by far the nation's largest program for new fathers, and is now offered in 44 states and on U.S. military bases, Canada and the U.K.
Since 2003, beginning at Good Samaritan Medical Center, The Gathering Of Men has offered these Boot Camps throughout Palm Beach County. We now offer these classes in 7 County-wide Hospitals!
BOOT CAMP MISSION
To assure every child the opportunity for a caring and capable father beginning at birth. Classes are for First Time Dads!
BOOT CAMP BASICS
Class Participants: First Time Dads and Veteran Dads + their babies
Class Times: 9am-Noon Saturday (Local); On-Line times 12pm-3pm
Class Tuition: $30-40 per person (payable in class and On-Line)
Each dad receives class materials including the book, Crash Course for Dads-To-Be.
WHAT YOU'LL LEARN
Forming a New Family
Useful Birth-Day Tips
Caring for a New Mom
Caring for New Baby
Becoming a Dad
Leaving a Legacy
IN-PERSON CLASSES 2022-2023
ON-LINE CLASSES are available now due to COVID restrictions. The Gathering of Men resumes in-person classes SOON!
ON-LINE CLASSES 2022
July 9, July 16, July 23, July 30

Aug. 6, Aug. 13, Aug. 20, Aug. 27

Sept. 10, Sept. 17, Sept. 24

Oct. 1, Oct. 8, Oct. 22, Oct. 29

Nov. 5, Nov. 12, Nov. 19

Dec. 3, Dec. 17
CURRENT HOSPITALS
St. Mary's Medical Center
Jupiter Medical Center
Wellington Regional Medical Center
Good Samaritan Medical Center
Bethesda Health East
Boca Raton Regional Hospital
West Boca Medical Center
Downloadable Brochures (2020)
Over 3000 men have attended our classes in Palm Beach County since 2003!
---
TESTIMONIES
"I got more out of the class than I thought I would." Andy O'Brian
"I believe this class shouldn't be optional but necessary! I'm really excited about this new chapter in my life and I want to thank you and your team for making this such a positive experience." Michael Stein
"When my husband returned from Boot Camp he felt empowered to care for me as a pregnant women, as his wife and soon to be new mom. He realized he has a special role to play in taking care of me, providing for our family and being the father figure for our son that no one else could be." Shannon Woolfe
COACHES (Palm Beach County)
Jason Besner, Charlie Cartwright, Dennis DeMarois, Corey Deveronica, Jason Fisher, David Killian, Andy O'Brian, Dennis Richards
ADDITIONAL RESOURCES
Boot Camp Pictures