Recommended Reading
The average American watches 1,456 hours of television a year but only reads three books.
So if it is true that readers are leaders, and the more you read the further you advance, then there isn't a lot of competition. Don Miller in Father Fiction
God In The marketplace
Written by henry and richard blackaby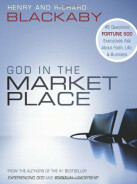 Aside from Experiencing God, Henry Blackaby has made the greatest impact ministering directly to Fortune 100 and 500 CEOs, advising them on how to effectively blend their faith with their business. Out if that ministry's success comes God In The Marketplace, a book to help everyone from the front desk to the executive suite best experience God's will in his or her work.
Blakaby believes that just as Jesus had businessmen among His original disciples, so may God be calling out businesspeople today. However, while those in the marketplace may have excellent educations and access to world-class leadership seminars, they often feel inadequate in matters of spiritual influence. God In The Marketplace will help them better understand what the Bible says about integrating their Christian faith with their work lives and provide biblical answers to the common yet difficult questions that are often raised for Christians at work.
"Each page challenges 'conventional wisdom' with time-tested truth. Tremendous insights." John D. Beckett (chairmen, R.W. Beckett Corp., and author of Loving Monday& Mastering Monday)
"Clear, biblical perspectives. A 'must-read' for those seeking to achieve personal and business accomplishment." David "Mac" McQuiston, (president and CEO, CEO Forum Inc.)
"Relevant, helpful, instructive, and encouraging." Ron F. Wagley (chairmen, CEO, and president; retired, Transamerica Insurance & Investment Group)
Facing the Blitz: Three Strategies for Turning Trials into Triumphs
written by Jeff Kemp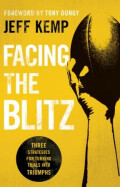 During a life "blitz," when everything seems like it's collapsing--financially, relationally, spiritually, or physically--if you take initiative you can do more than just survive. You can grow, succeed, and advance. In Facing the Blitz, Jeff Kemp shares lessons he's learned through all kinds of life blitzes, both personal and professional. Discover how life is about transformation and being others-oriented; having the right mind-set can turn unnecessary fear and misery into courage and joy. No matter who you are, this book is about the things that matter in your life. Don't end up flat on your back when trouble comes. Learn to seize opportunities to flourish and grow.
"Jeff Kemp is a long-time friend, former quarterback, and teammate with the Seattle Seahawks. Many of the stories Jeff writes about I witnessed and remember vividly! Some painful, others joyful, but all of them instructive and profitable if you can face the blitz!" Steve Largent (NFL Hall of Fame and former U.S. Congressman)
All Pro Dad
Written by Mark Merrill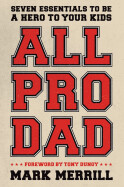 Dads, do you want to be a hero to your kids? A go-to coach for your teens? A husband your wife knows she can count on? All Pro Dad lays out a game plan built on seven essential fathering truths and ultra-practical insights for the questions every dad needs answered at some point. With a foreword by Super Bowl–winning coach Tony Dungy, gut-level "huddle" questions to ask your children, and firsthand stories from well-recognized dads (CBS broadcaster James "JB" Brown, Chick-fil-A founder and CEO S. Truett Cathy, Grammy Award–winning recording artist Michael W. Smith, FedEx Express COO and president, international, Michael Ducker, and more), All Pro Dad will stir you, equip you, and inspire you toward the goal of being a champion father and a hero to your kids.
A powerful, practical playbook for every dad." Tony Dungy (Super Bowl-winning coach and NBC Sports commentator)
All Pro Dad lays out a solid game plan that will make a huge difference in your family. Dave Ramsey (New York Times best-selling author and nationally syndicated radio show host)
All Pro Dad provides a great recipe for men to really connect with their kids. S. Truett Cathy (founder and CEO of Chick-fil-A, Inc.)
List to love by for busy husbands: simple steps to the marriage you want
written by Mark and Susan Merrill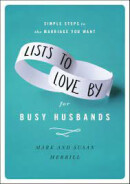 The founders of Family First, Mark and Susan Merrill, present a collection of lists created for the busy husband who wants a more intimate, fulfilling union with his wife. Husbands and wives bring different personalities, upbringings, experiences, and expectations into their marriage, which can lead to miscommunication and emotional turmoil. Lists to Love by for Busy Husbands presents practical dos and don'ts along with step-by-step advice for husbands who want to bridge the emotional gap and improve their marriage. Mark and Susan Merrill understand that couples crave love, but don't always know how to express it to one another. These thirty lists will carry husbands through an entire month of learning to love their wives more deeply -- wisdom they will come back to again and again. These real-life answers from a Christian perspective will help readers evaluate, refresh, and strengthen their own marriage.
"If your looking for a convenient and consistent way to make your marriage the very best it can be, you've fond it." Dr. Dennis Rainey (host of the nationally syndicated radio program Family Life Today)
"The short, immediate, impactful truth in the book will turbo charge your marriage. It's a must read for every husband." Gary Thomas (author of Sacred Marriage)

Never Surrender: A Soldier's Journey to the Crossroads of Faith and Freedom
written by LTG (Ret.) William 'Jerry' Boykin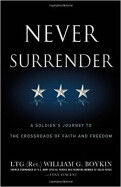 General Jerry Boykin is one of the original members of the Delta Force and has spent the majority of his career in Special Forces. His work in this area of the military placed him in many battles--some of them legendary. He was commander of the Delta Force team portrayed in the movie Black Hawk Down. These and other dramatic experiences make Boykin's life story read like the riveting fiction of Tom Clancy. He shares how his foundation of faith--while challenged and even broken--was restored and became the lifeblood that brought him through unimaginable circumstances to a rich and inspiring life. In the end, the general realizes his life would have gone very differently, even tragically, without his faith.
A powerful and moving chronicle of courage, commitment, and devotion by an audacious soldier and gifted leader. This thrilling account of how he "fought the good fight, finished the race, and kept the faith" in the midst of dangerous and difficult circumstances is inspiring. You won't want to put it down. Oliver North (Lt. Col. USMC Ret., speaker, bestselling author)

Take a Knee: Winning Plays for the Game of Life
written by Dr. John Tolson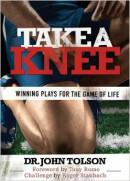 In the Game of Life, do you feel stuck on the bench? What are you waiting for? Get off the bench and take a knee! Dr. John Tolson invites you into the locker room... the place where players' prep... the moment where you decide if you're in or out, how you're going to execute the best offensive plays, and strategize your best defensive moves. In the game of life, our locker room is no different. To be the best husband, father, friend, businessman, student, athlete, or coach, we have to apply the same basic principles to find success.
"Take A Knee is a slam dunk" Pat Williams (Orlando Magic Senior Vice Presidetn, retired) David "Mac" McQuiston, (president and CEO, CEO Forum Inc.)
"Take A Knee is like one of those insane, get-ripped-in-ninety-days videos, only this is for your soul." Bradie James (Dallas Cowboys Lineback)


The Runner: Book one in the michael knight series
written by A. Wayne Gill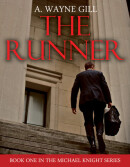 Michael Knight had the perfect life - a perfect family, a perfect relationship, and a perfect future. He was to follow in his father's footsteps but he has a secret ... that will take him from being a small-town preacher's kid to the heart of the big city, where everything seems golden glittery and glamorous. He will obtain the opportunity of a lifetime and he will walk down the corridors of power, influence, and wealth. The whole world will be laid at his feet for the taking. But at what cost? Will he trade in all he has been for all he could become?
A. Wayne Gill presents a breakthrough novel of suspense, intrigue, and spiritual awakening. You will be drawn into the lives of the characters as their worlds collide, forcing them to make decisions that will impact generations. The Runner will grab you from it's opening pages and will not let you.
Gill delivers a knockout punch with this fast-moving thriller ... you will love the twists ands turns. Richard Warren Rappaport, Esq. (Entertainment, Arts, and Sports Law Attorney)